Director of Healthy Horizons Inc, Pamela Haynes.
The Intimate Hotels of Barbados group is celebrating 23 years of providing service excellence in the hospitality industry. This membership association of over 40 hotels started in 2000 under the trading name Small Hotels of Barbados Inc. and represents the best of the island's small hotels, apartments, guest houses and villas.
To celebrate its 23rd anniversary, Intimate Hotels of Barbados is taking its valued public behind the scenes to learn some of its history and meet some members of the group. Today we introduce Healthy Horizons Beach Apartments.
The apartments which are located in Hastings, Christ Church have the popular Salt Café at the front of the complex is a family-owned business that was started by husband-and-wife Pamela and Trevor Haynes who bought the property in 1996.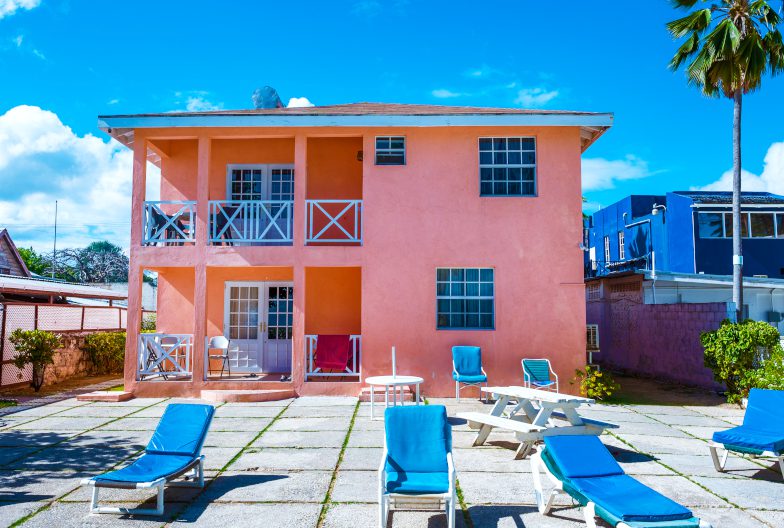 View of Healthy Horizons Inc loathed in Hastings, Christ Church.
"At the time there was a restaurant on the property. Trevor was involved in water sports on the West Coast for many years. When the company he worked for did not renew his contract he decided to continue in the tourism sector. He demolished the restaurant and built Healthy Horizons. The construction ended in March 2000 just in time to welcome a group from the British Broadcasting Company (BBC) in London who came to Barbados to make a documentary. Our location right on the beach attracted passers-by and we soon had a number of tourists who were interested in spending their winter vacations on an annual basis. We now have repeat guests who have been staying with us for 20 years. Many of the guests have established lasting friendships with one another and that is nice to see," she said.
With a smile and a slight chuckle, she reflected on her journey from Assistant Manager to becoming one of the Directors of the hotel noting that the experience has been enjoyable over the 23 years they have been in operation.
"Initially my husband was the Manager, and I was the Assistant Manager, now I am one of the Directors. We got incorporated in 2015. The journey has been an interesting one because as you can imagine when we started officially in 2000, we did not know anyone, and we sought to get business but luckily because of our location on the beach persons were passing and they saw us and inquired about when we were going to be opened for business. We started our first full winter season in 2001 with a Canadian couple as well as staff from Air Canada. The business grew from that point onward by word of mouth. People telling their friends and family about their experience with our personable staff. Some of our long-term guests have opted to have their weddings and renew their marriage vows on property," she said.
The retired physiotherapist said they decided to become a part of Intimate Hotels of Barbados due to them seeking to have greater representation for their apartments.
"It was always our desire as a small business to be involved with a bigger entity so there would be greater representation and visibility. There was the ability to meet and communicate with other members in the business, so ideas were shared. We became members of IHB around 2001 and the benefits have been very good. We took advantage of many things such as the training that was offered in housekeeping, fire prevention and website management," she said.
The Director of Healthy Horizons Inc, Pamela Haynes, lauded Intimate Hotels for the work they have done to assist her with attracting more business during the years they have been a member in the organization.
"We have found that being a part of Intimate Hotels has been very beneficial as they offered a lot of assistance to us in the early days when we were getting accustomed to using the internet to communicate with potential guests, they were very helpful. They ensured that we were attracting more business with their attendance at road shows and other events thus keeping our occupancy levels satisfactory year-round" she said.
Pamela said that she wants persons when reading this article to know that Healthy Horizons Inc. is your home away from home.
"When you stand on the balcony overlooking the sea and you look at the horizon and hear the waves it brings a sense of wellbeing as it is beautiful, tranquil, and peaceful. The property has been a blessing to us, and we want it to bless others and so we invite persons to come and experience first-hand the warmth and friendly hospitality offered by all at Healthy Horizons Inc," she said. (Write Right PR Services)