Alvin Jemmott is the Chairman and CEO of Jemmott Hotel Management Inc which manages Santosha.
The Intimate Hotels of Barbados group is celebrating 23 years of providing service excellence in the hospitality industry. This membership association of over 40 hotels started in 2000 under the trading name Small Hotels of Barbados Inc. and represents the best of the island's small hotels, apartments, guest houses and villas.
To celebrate its 23rd anniversary, Intimate Hotels of Barbados is taking its valued public behind the scenes to learn about some of its history and meet some members of the group. Today, we introduce Santosha.
The stylish, family-operated, small-scale self-catering retreat stands in a remote and serene location in St Andrew overlooking the East Coast Sea.
The ten-room air-conditioned self-catering accommodations, with an additional three bedroom private Villa have private bathrooms, modern décor with wooden furniture, free Wi-Fi, equipped kitchens and a balcony with sea or pool view is managed by Alvin Jemmott who is the Chairman & CEO of Jemmott Hotel Management Inc.
Jemmott who is known in the hospitality industry for the past 42 years having entered as a waiter back in 1980.
"My first job was as a waiter in a restaurant, that is how I got into the hospitality industry. In 1981 I began my employment at Marriott's Sam Lord's Castle where I began my career as a Waiter and ended as a Director of Sales and Marketing," he said.
Since 1981, he went on to work at major hotels before becoming the Chairman of the Barbados Tourism Marketing Inc. in 2014 a tenure which he thoroughly enjoyed. However, it was in 2018 that he made the bold decision to start his own company Jemmott Hotel Management Inc. to curb some of the deficiencies that he saw over the years in small hotels.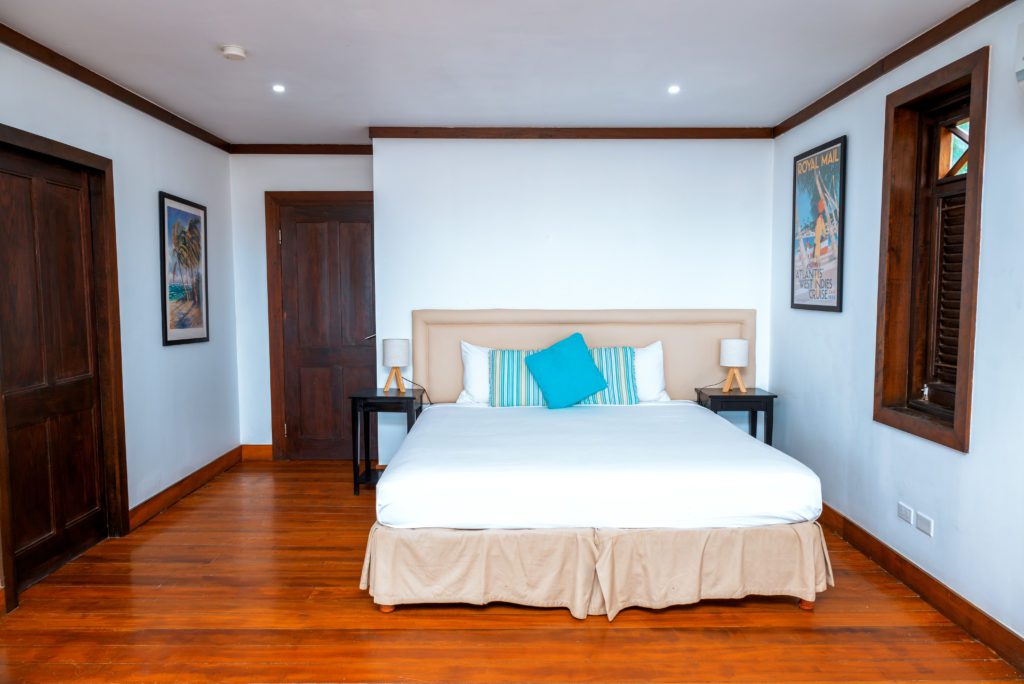 One of the rooms located at Santosha.
"We started the company in order to lend assistance to various entities as we thought it was necessary to bring together a group of skills that small operations normally would not have. So, when we started Jemmott Hotel Management Inc. it was with the views of bringing various disciplines to lend completeness to smaller operations. In 2019, we started our journey here at Santosha and it has been going great since then till now," he said.
Jemmott said Santosha is a property that allows persons to escape and relax from the hustle and bustle of day-to-day life and that is what makes it unique. 
"The property has created a niche market for itself here in St. Andrew [as] persons can get away here at Santosha with its peaceful serene surroundings," he said.
Jemmott who has been working in the hospitality industry for 42-years said that COVID 19 was an unprecedented experience for the Santosha, but they made it through.
"How can one forget COVID? Those were some trying times but we made it through as we held firm on our staff engagements so there were no disruptions to the staffing. It was difficult operationally and financially, but we sought to make sure that our staff were not disenfranchised during the pandemic," he said.
Reflecting on the staff, he said that the staff at Santosha are a part of his family, and he is grateful to have such as stellar team of workers he can depend on.
"Santosha has a family atmosphere as they know everyone staying here. The staff work closely together as they depend on each other for moral support in their day-to-day activities," he said. Santosha decided to join the Intimate Hotels of Barbados as they realised there is strength in numbers. "As a ten-room property we found it necessary to come together with a grouping of like-minded individuals in order to get the impact that we desire. So being a member of Intimate Hotels which caters to properties that are 75 rooms or less was the place for Santosha to be," he said. (Write Right PR Services)