One of the beautiful rooms that awaits guests when they come to Melbourne Inn.
The Intimate Hotels of Barbados (IHB) group is celebrating 23 years of providing service excellence in the hospitality industry. This membership association of over 40 hotels started in 2000 under the trading name Small Hotels of Barbados Inc. and represents the best of the island's small hotels, apartments, guest houses and villas.
To celebrate its 23rd anniversary, Intimate Hotels of Barbados is taking its valued public behind the scenes to learn some of its history and meet some members of the group. Today, we introduce Melbourne Inn.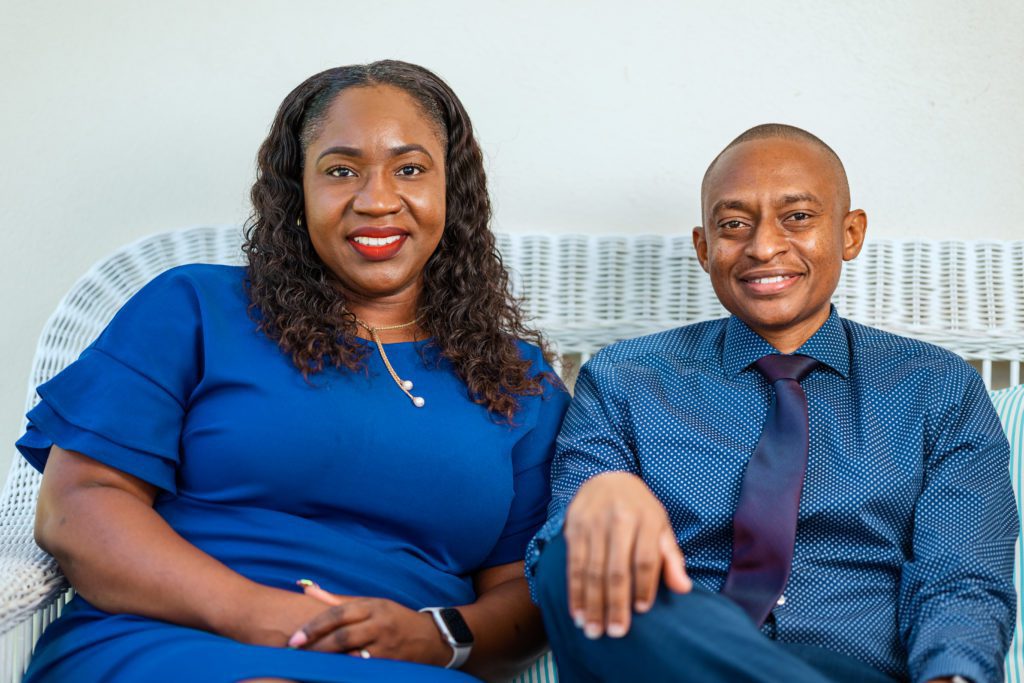 General Manager of Melbourne Inn, Shonnell Reid and her husband Kweku Reid manage the day-to-day operations of the family owned Melbourne Inn which is located in Dover, Christ Church.
This family run hotel which is owned by Ann Jones-Reid, her son Kweku Reid and his wife, who is the General Manager, Shonnell Reid. Kweku said that the business was started by his parents 16-years ago after they transitioned from their apartment and car rental business. He decided to take up the reigns of the hotel after Shonnell his then fiancé was propositioned by his mother over seven years ago to run the accommodation rental which they did after returning from their honeymoon.
"It was a family run business as my parents had a car rental company, then they extended to apartments and in 2007 they purchased a guest house which later became Melbourne Inn. For me, it was a big journey as I first started working with the car rentals and apartments then I went to England to study for a few years. When I met my now wife, my mother propositioned her to run the hotel. We decided we would do it and that is how we got into running Melbourne Inn," he said, whilst smiling.
Kweku said working with his family and wife had its challenging moments, but he would not change it for the world as he is pleased to be working with persons near and dear to his heart.
"The journey has been mostly good as I said it has been up and down trying to separate family life and work life because sometimes, they collide as I am dealing with business, my mother, my wife, and our family," he said.
His wife, who was smiling sweetly as she listened to her husband recount his experience in the hospitality industry said she decided to work with him in upgrading and rebranding to a hotel as it was a way for her to utilize the skills that she has to continue to build a family legacy.
"Before taking up the journey, I was managing another business. So, due to my drive, my understanding of the business and my passion for hospitality I realized it would be a good fit for me to manage the property" she said.
Shonnell said she has thoroughly enjoyed the experience working with her mother-in-law and her husband.
"We are different in the ways we would approach business. However, it has been very enlightening knowing that joining forces with my husband and taking on this property to make it into a great success for the last seven years has been an amazing feeling to know that we have made it into what it is today," she said.
The General Manager of Melbourne Inn, Shonnell Reid said that Melbourne Inn has being receiving great guest reviews along with recognition on Booking.com, Expedia, BTMI and IHB over the years which we could not have achieved without the help of her staff's dedication to customer service excellence.
"It is heart-warming to know that by providing our hospitality or accommodation that we have made a difference in our guests lives. It is also very encouraging for us as an intimate hotel. But our team is passionate about ensuring that you 'live in your world and relax in ours' at Melbourne Inn," she said.
The beautiful boutique accommodation consisting of one- and two-bedroom suites which include en-suite bathrooms, a pool and soon to take on a new journey of opening a restaurant is a member of Intimate Hotels of Barbados.
Co-owner Kweku Reid said they decided to join the organization due to them seeking more knowledge on the hotel industry from industry experts.
"Being a part of the IHB group, we gained helpful information from the different sessions, advice on the dos and don'ts in the industry and knowledge on the changes and benefits to the sector. We also learnt ways to make the hotel more affordable and were given resources which enabled us to purchase items at a more cost-effective price. We realized that the association was able to point us and or give advice. So, we decided to be more active to be able to benefit from the knowledge of the other hoteliers and be able to navigate life as a hotelier a bit easier," he said. (Write Right PR Services).